HOW TO SET UP YOUR EGG ORDER FOR GROUPS!
IMPORTANT GROUP INFO
Welcome to The Egg Project!! Thanks so much for taking the time to get to know our system! We are so grateful for the opportunity to work with you to fundraise for your group! If you have any problems please get in touch with me on pip@theeggproject.co.nz
STEP 1 - Go to the Website www.theeggproject.co.nz
STEP 2 - Click up the top where it says "Do you have a group code?"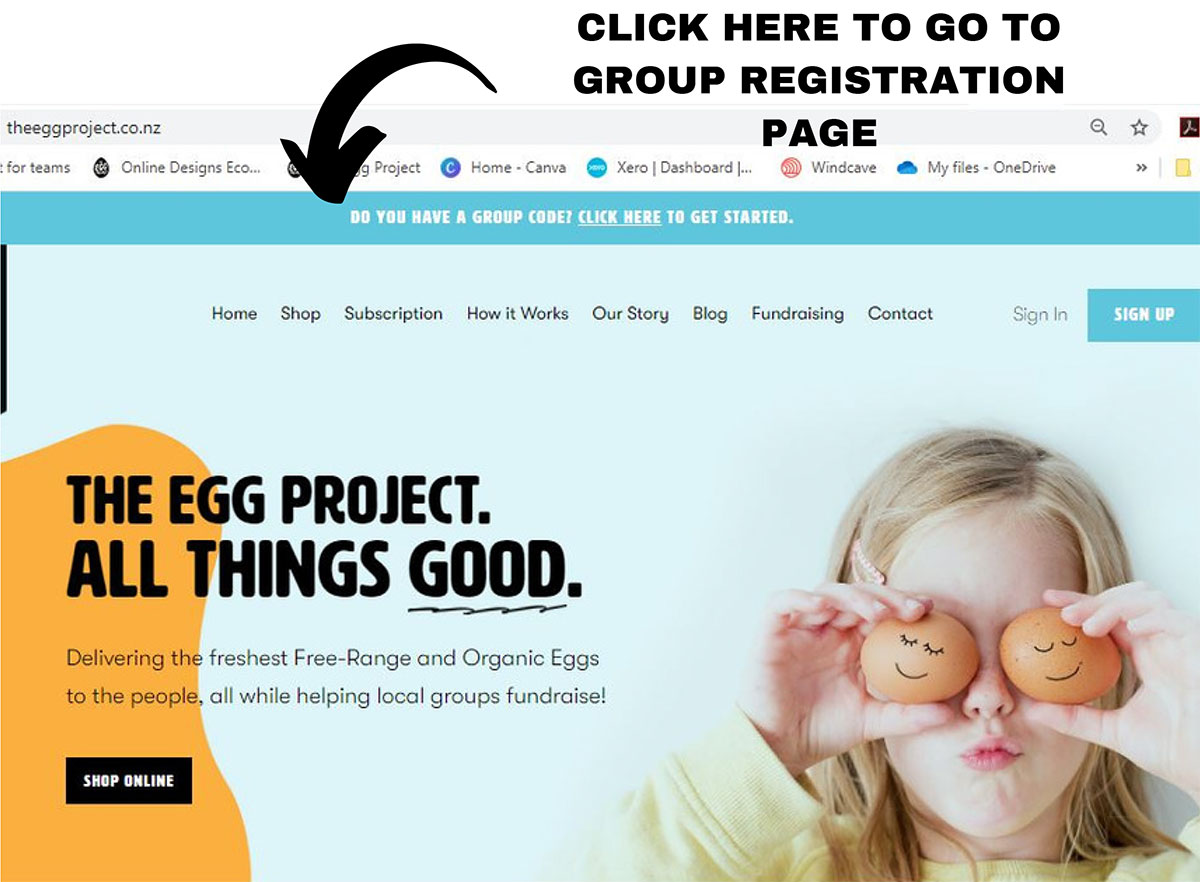 STEP 3 - Fill in all your details to register - make sure you put in your group code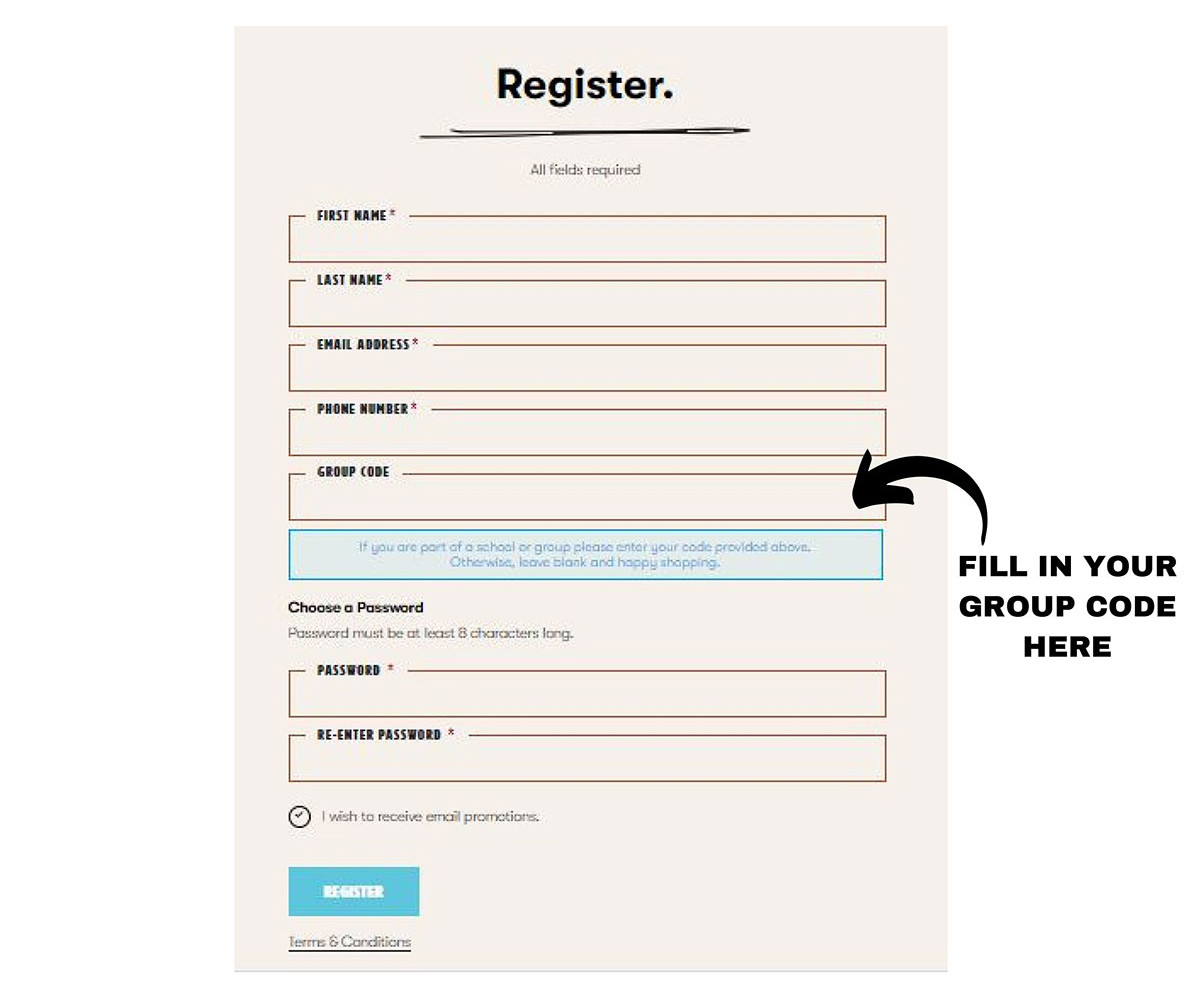 STEP 4 - THIS IS YOUR ACCOUNT PAGE WHERE YOU CAN CHANGE YOUR PASSWORD ETC AND REMOVE YOUR CODE IF YOU WANT TO ORDER EGGS FROM GATE TO DOOR SERVICE OVER THE HOLIDAYS. CLICK ON SHOP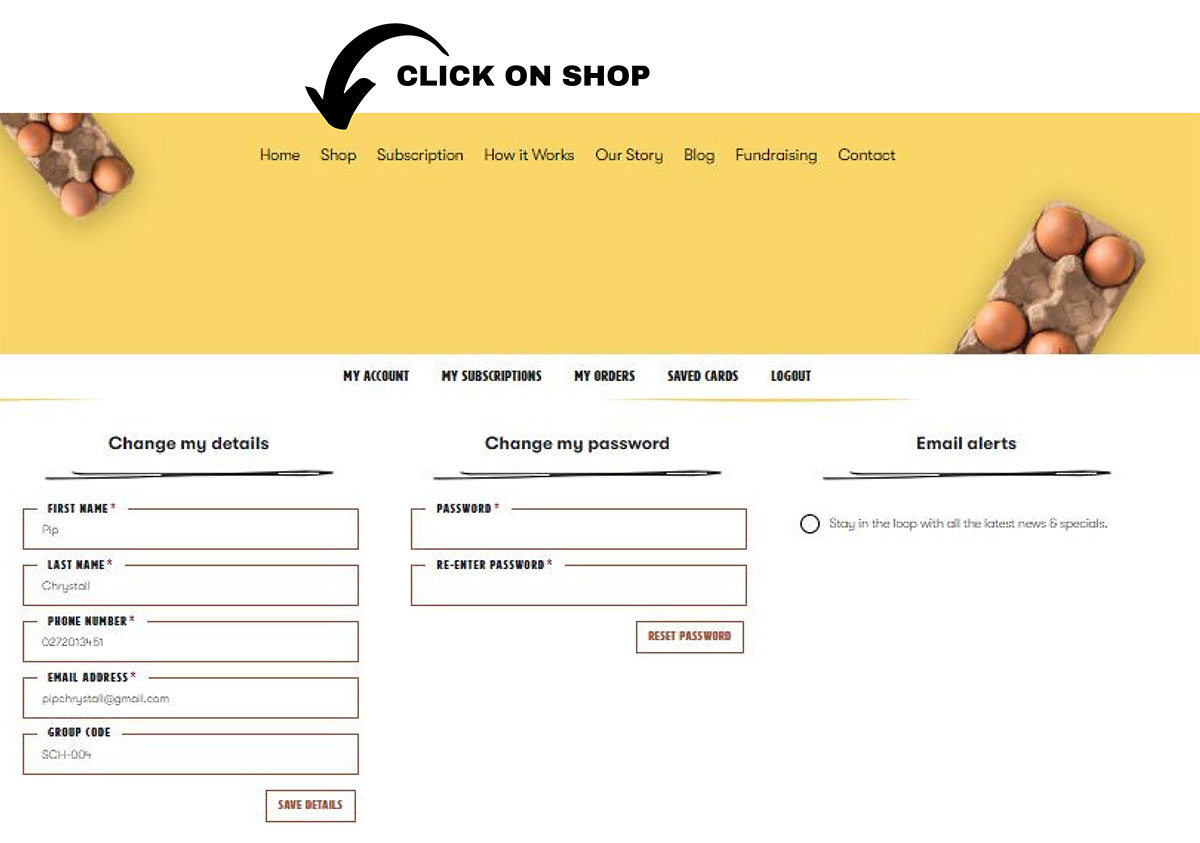 STEP 5 - This is your shop for your group. You will see the products that are available and prices as well as any details specific to your group. It is here that you can choose to either shop now as a one off or set up a subscription for the term. Lets go buy a dozen eggs as a one off :-) CLICK SHOP NOW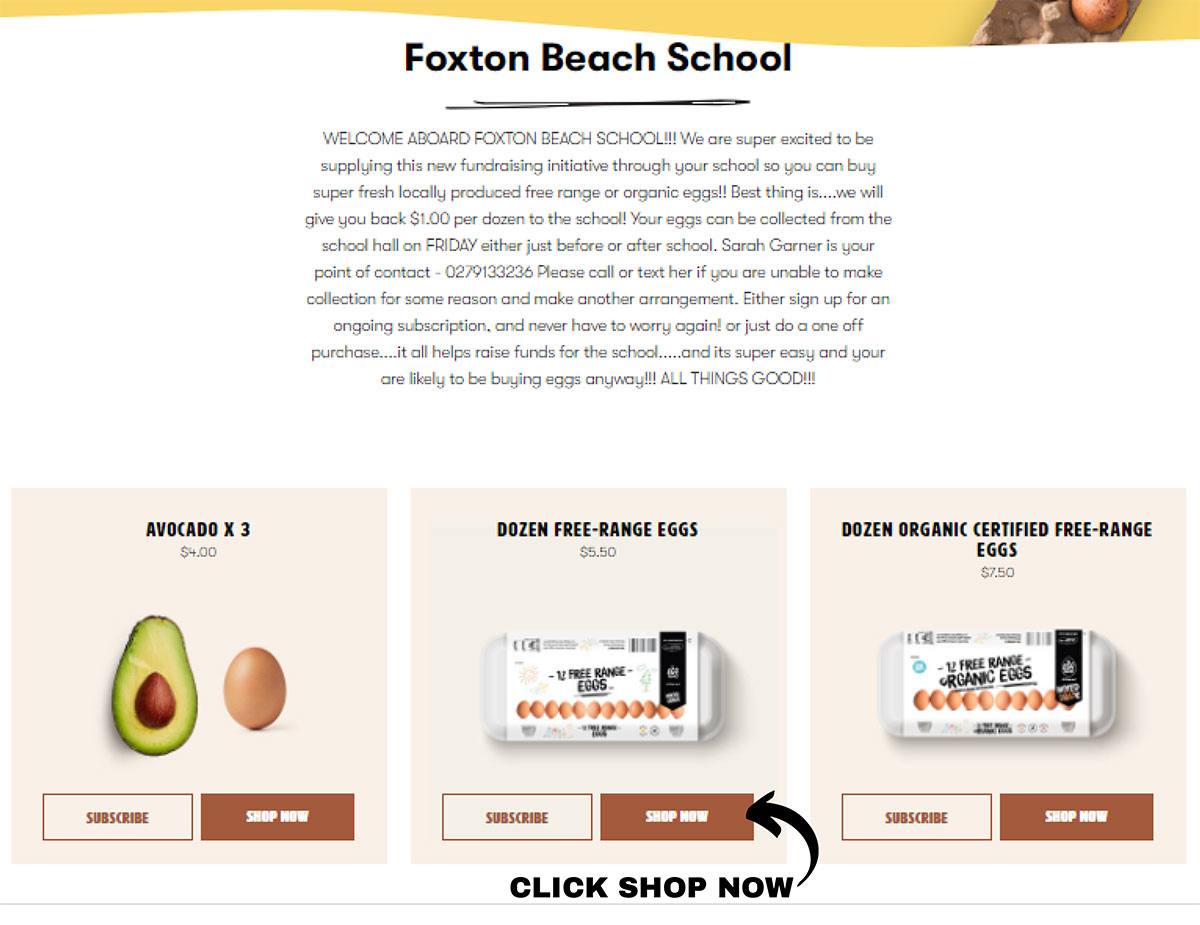 STEP 6 - Check this is the item that you would like to purchase as a one off and this is where you put in how many pack you would like and then click BUY NOW.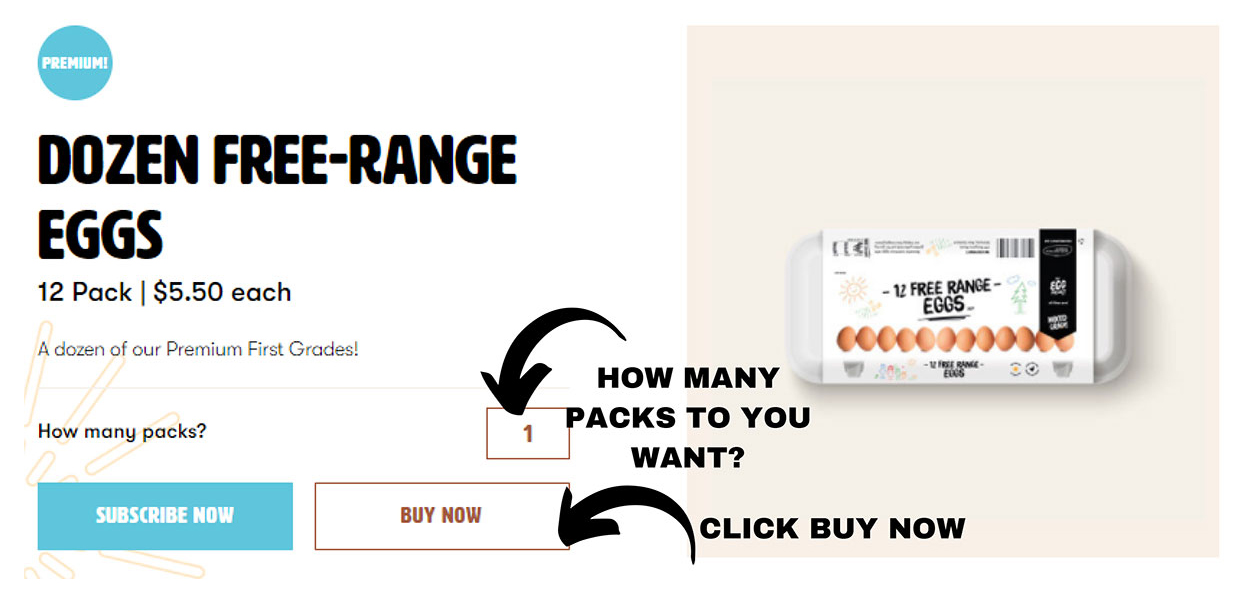 STEP 7 - This page should show all your details
You need to add your name as the recipient.
If someone else is picking up your eggs, put their name in the shipping information.
You need to select your collection day. You cannot order your eggs on the day you collect - see specific instructions to your group.
IMPORTANT: If you want to add another product, from this page click on shop at top of the page, follow the same process for another product and when you get back to this page, it will show in your cart.
Payment options - Select either Credit/Debit Card or Online Banking then click CONFIRM AND PAY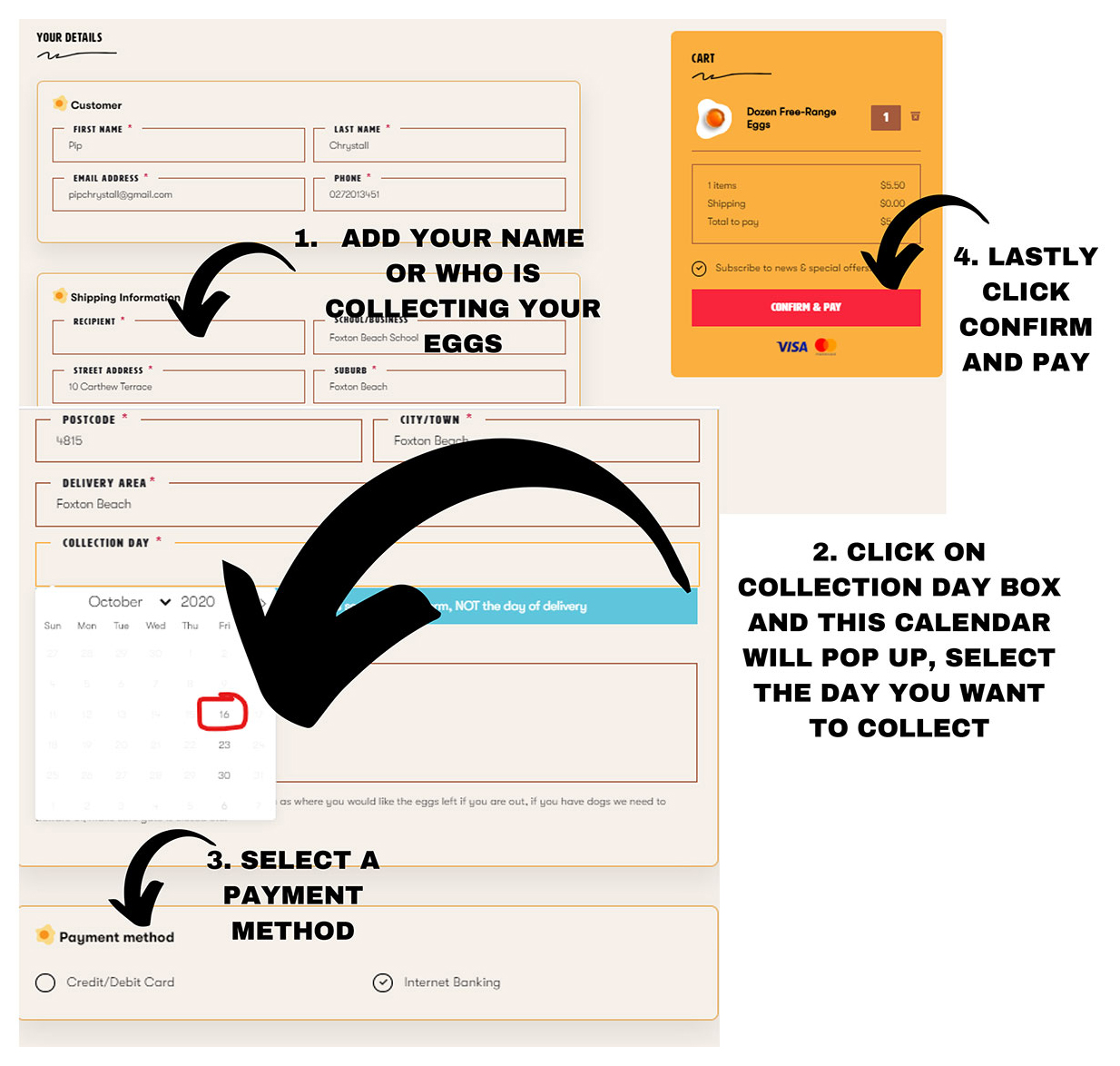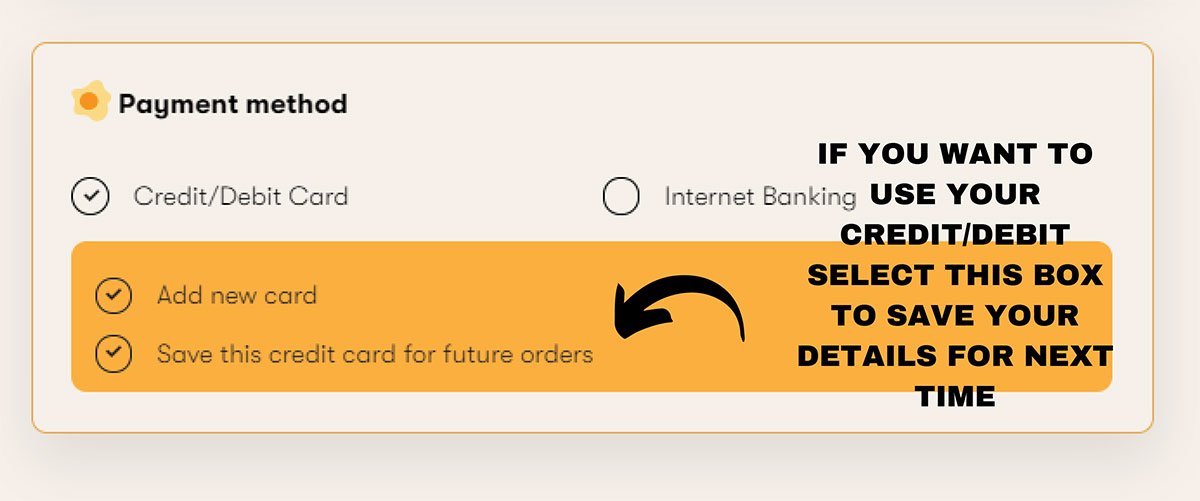 STEP 8 - CREDIT/DEBIT OPTION - When you choose paying by a credit debit card...after you have clicked confirm and pay.... shown below is where you add your details. We cannot see this information. It is stored securely by WINDCAVE.
This is the easiest way to pay.
We cover all the fees.
You must use a debit/credit card for a subscription. One-off you can use either online banking or Debit/Credit Cards,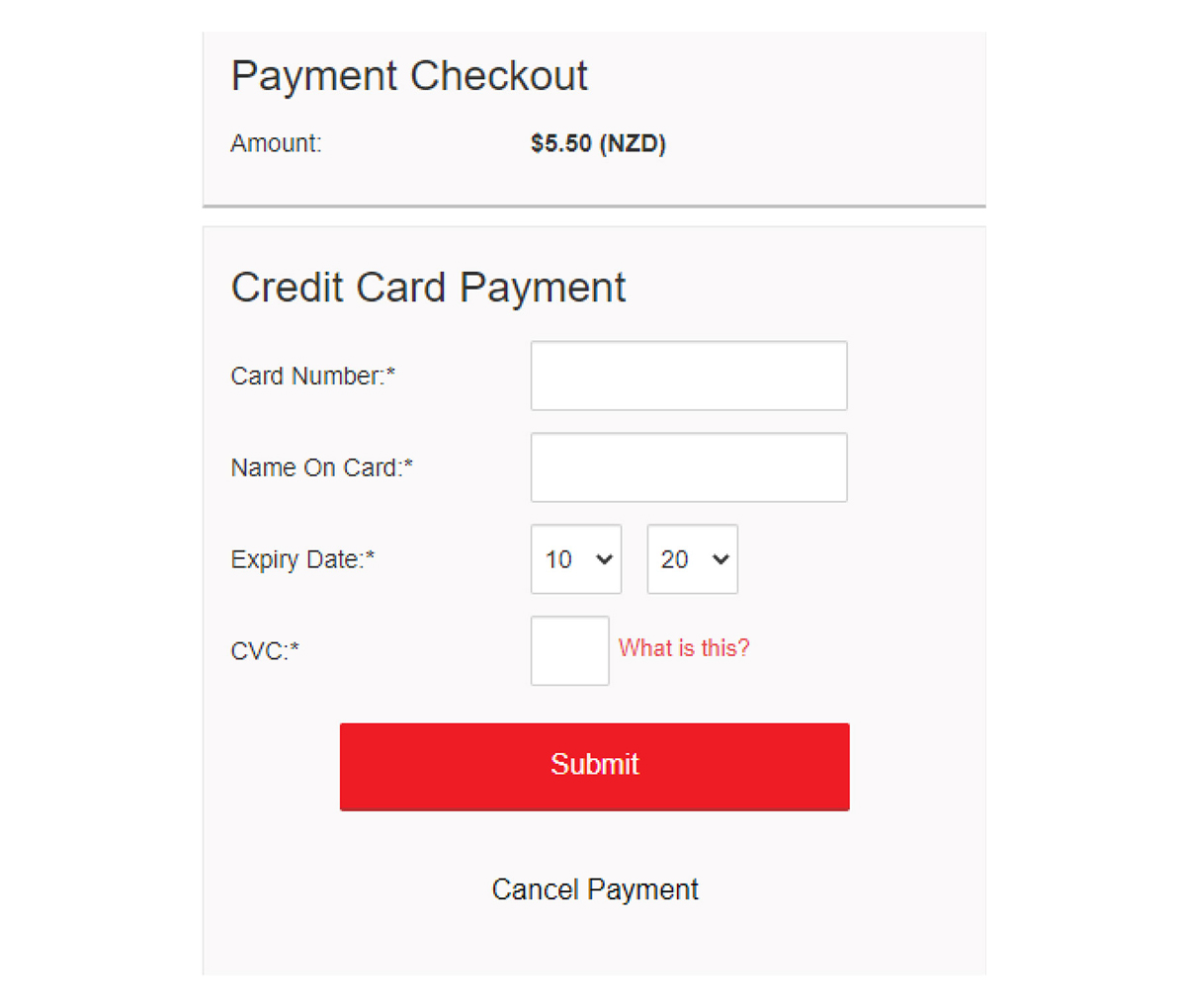 STEP 9 - ONLINE BANKING OPTION - Complete like you normally would using your online banking ID and Password. YOU CAN ONLY DO ONE OFF PURCHASES WITH ONLINE BANKING.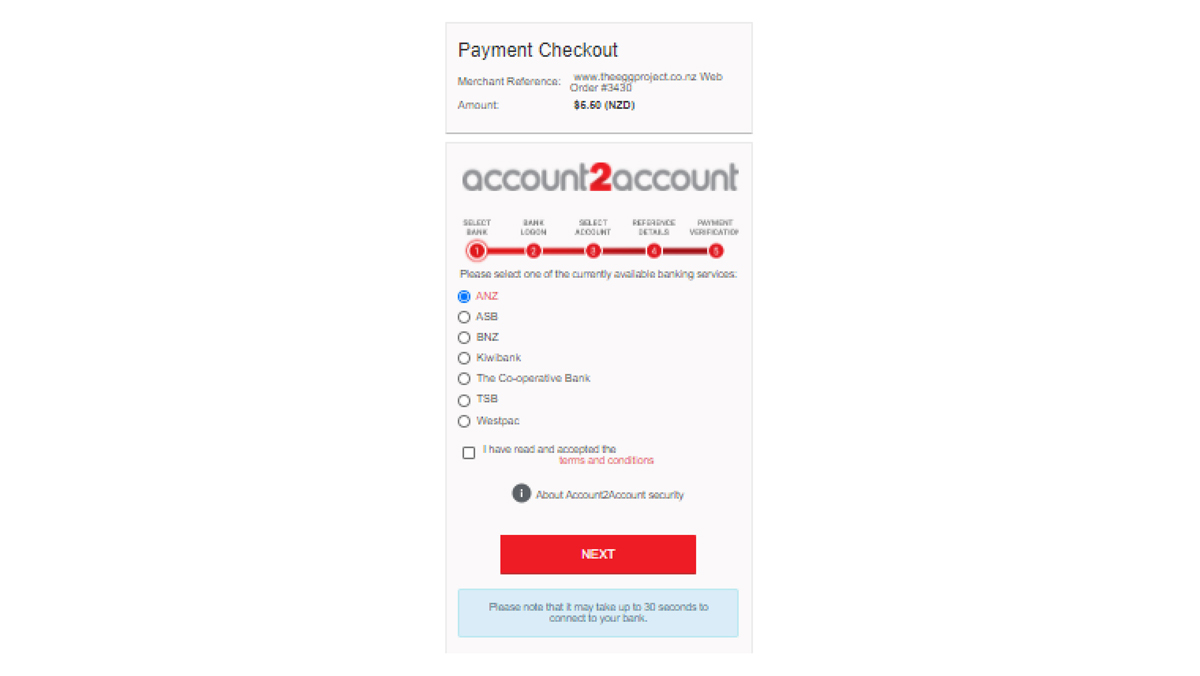 STEP 10 - After you have completed your payment, you click next and you will see the page below say EGGCELLENT!! and you will receive a receipt to the email that you registered with! Well done and thanks so much for supporting us to support you!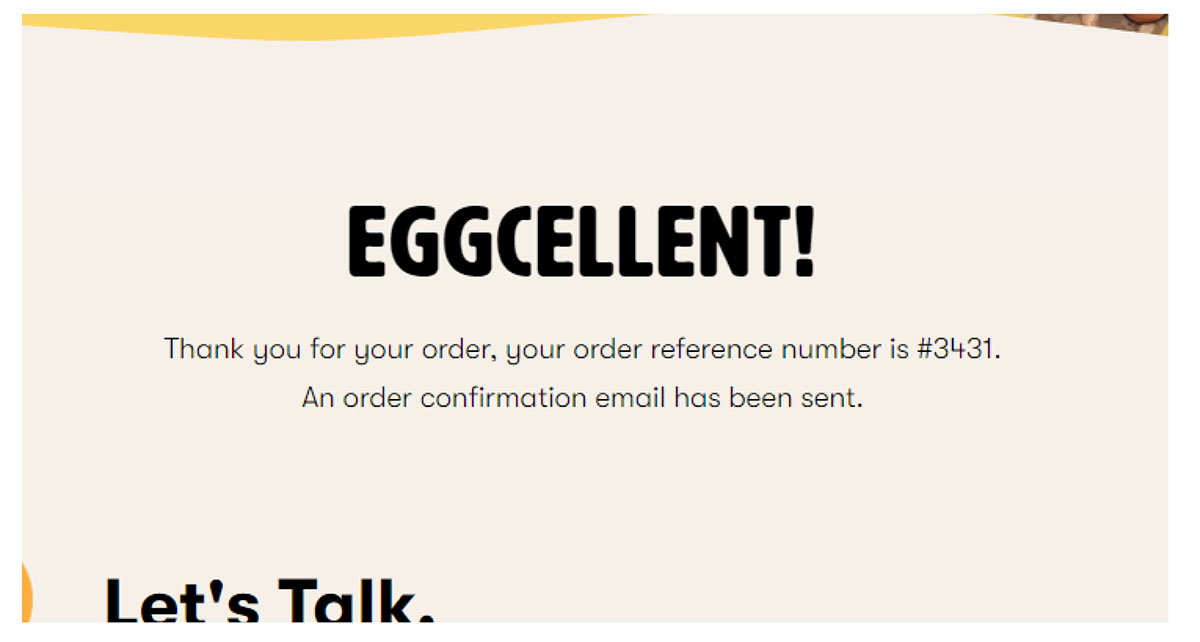 Setting up a Subscription
STEP 1 - Select a product you want to set up a subscription for and CLICK SUBSCRIBE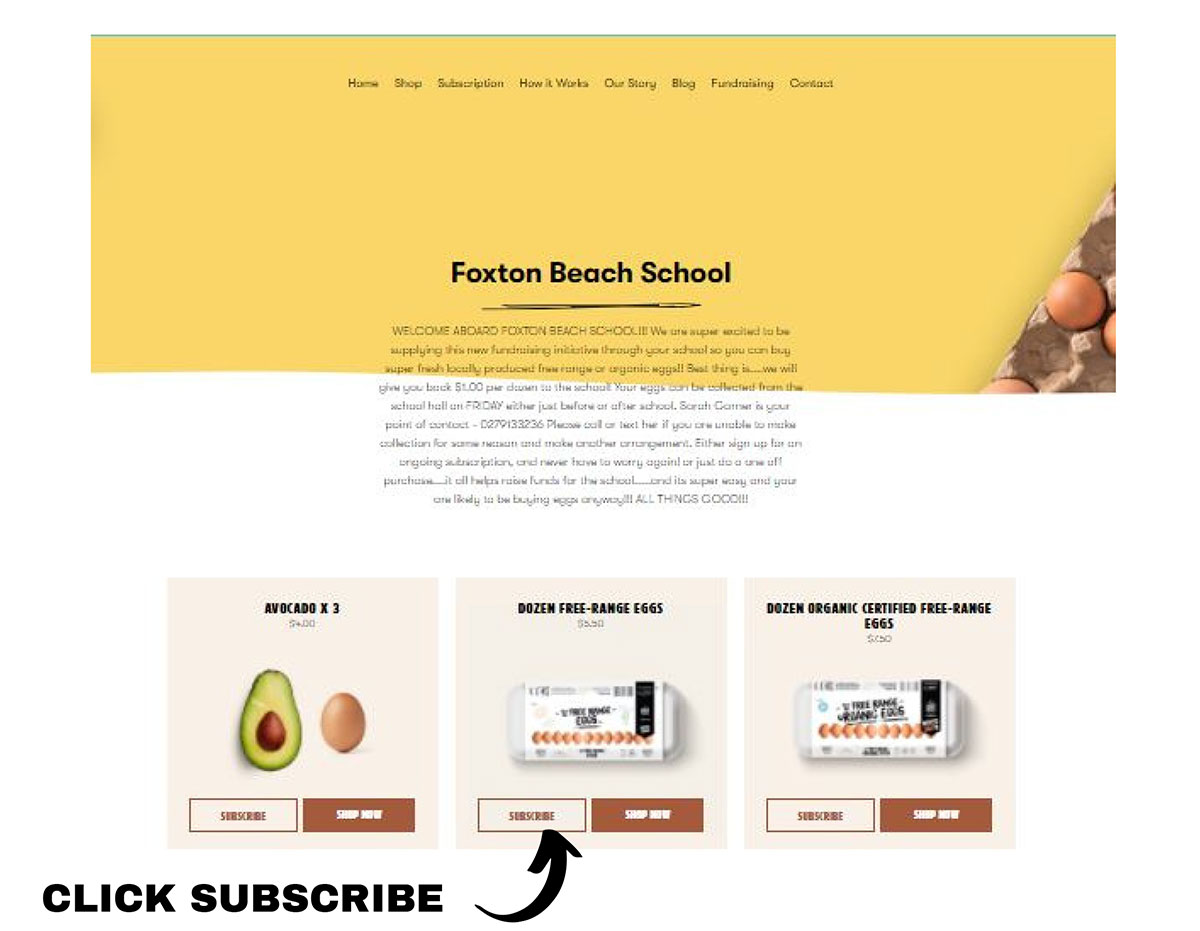 STEP 2 - In box 1. CLICK EDIT

STEP 3 -
Select frequency of eggs - Weekly, Fortnightly or Monthly
Select start date on which you would like to collect your eggs (only bold dates available)
Select your product and amount of each product
Remove your product from the list if you do not want it anymore
Click SAVE
Click in box 2. and enter all credit card details.
Click on ACTIVATE MY SUBSCRIPTION. You will receive a receipt to your email address confirming your subscription.
Your order will be processed 24 hours before your delivery day automatically.
You can pause your subscription, change or delete whenever you like, just go in and edit.
I pause them all over the holidays.